What Colour Wellies Go With Everything?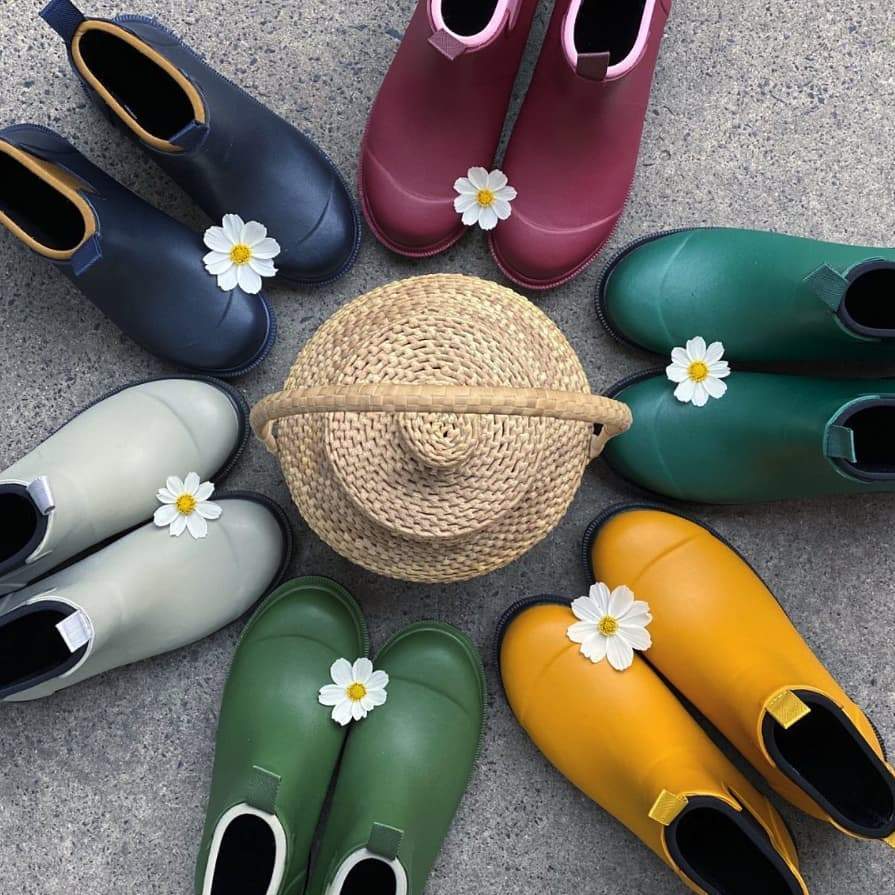 During a heavy downpour, it's instinctive to reach for your wellies because you know they'll keep your feet warm and dry. However, when choosing the right colour to perfectly match your outfit, you might feel stuck. From bright colours and good quality natural rubber to neutral colours, having rain boots that are the right colour will make it easier to get dressed during a downpour. Learn about how you can stretch rain boots to better fit your feet.
Different Patterns And Colours Of Wellington Boots
The colour you choose for your new pair of wellie boots should be based on what colour clothes you wear the most. For neutral-coloured garments, you can go wild with a colourful yellow pair, since bright colours can make the outfit pop! Skinny jeans, for instance, go perfectly with our yellow gumboots.
Neutral-coloured rain boots, such as black or grey, can be matched with any outfit. These plain colours won't clash with the variety of leggings, professional pants, tall socks, or tights you likely have in your wardrobe. This is why if you're looking to add a practical pair of rain boots to your repertoire, neutral colours work perfectly. But don't forget that rain boots come in many varieties. For instance, ankle wellies can look quite professional and pair well with skirts, dresses, and tights.
What Should I Wear With Wellies?
Typically, wellington boots pair perfectly with these types of outfits:
Casual outfits for outdoor activities, such as shorts and jeans.

Professional work clothing.

Tights, pantyhose, or leggings paired with a dress.
In wet weather, you can pair your wellies with a warm sweater, a pair of skinny jeans, and a long jacket. A brightly coloured pair of rain boots, such as orange, can go well with blue jeans, a white sweater, and a long brown coat.
Skinny jeans work better with wellington boots than wide-leg or boot-cut pants because they don't bunch up inside the shoe. Brightly coloured boots coordinate best with neutral-coloured outfits, such as black or skinny grey jeans.
Neutral-coloured pairs work perfectly for professional environments. For work, you can opt for plain colour boots, such as black or grey; a neutral-coloured pair of rain boots go with everything. For an effortless, crisp look, you can pair black rain boots with skinny black jeans and a long beige-coloured trench coat.
If a date night rolls around and it's raining, there's no need to fret, as you can still wear your cute dress with a pair of rain boots and a rain jacket. Both ankle boots and mid-calf ones go perfectly with short dresses.
Best Stylish Wellington Boots That Go With Everything
1. Darcy Mid Calf Rain Boot
The Darcy Wellington Boot features increased height coverage, suitability for different calf sizes, along with being perfect to wear in muddy and wet conditions. This mid-calf wellington boot comes in black, which can go perfectly with any outfit in your closet. Even better, this boot was designed to be versatile in its use, so that you can wear it from morning to night, in the countryside or city, and while out on a hike or as a daily fashion boot.
The Darcy Mid Calf Wellie is made with sturdy natural rubber, and it's also completely waterproof, which means it'll keep your feet dry and warm during the fall and winter seasons. It also features a flexible 4mm neoprene lining, which makes the boot easy to slip on and off without a hassle.
2. Bobbi Wellington Boot
The Bobbi Boot from Merry People is a perfect everyday wellington boot. This rain boot seamlessly blends function and fashion with a neoprene lining and natural rubber. The Bobbi is designed for maximum comfort. It's easy to dress up or down, and you can wear it at night and daytime. These wellies are available in a range of colours to match your style and individuality: alpine green and black, beetroot and light pink, black and black, dusty pink, earthly brown, golden olive and black, koala grey, mustard yellow and black, orange and pomegranate, oxford blue and tan, and peer green.
The Bobbi is 100% waterproof to keep your toes warm and dry. It's made with a flexible neoprene lining, which makes it easy to slip in and off. Further, this boot is 100% vegan, which means it's free from any animal products.  Click this link to learn about how you can stretch rain boots to better fit your feet.
Final Thoughts
The outfits that match well with your wellington boots will depend primarily on the colour boots you own. Neutral-coloured rain boots, such as black or grey, can pair perfectly with any outfit in your closet. Neutral-coloured boots work better with a variety of tights, leggings, tall socks, or professional clothing. These wellies are well-rounded, especially if you're looking to add a practical pair to your closet. On the other hand, brightly coloured boots will often only go with a handful of outfits in your closet, but they can be the perfect piece to make a look pop, along with adding an element of fun to your wardrobe.