How to put wellies on a toddler
Lifestyle
October 30, 2022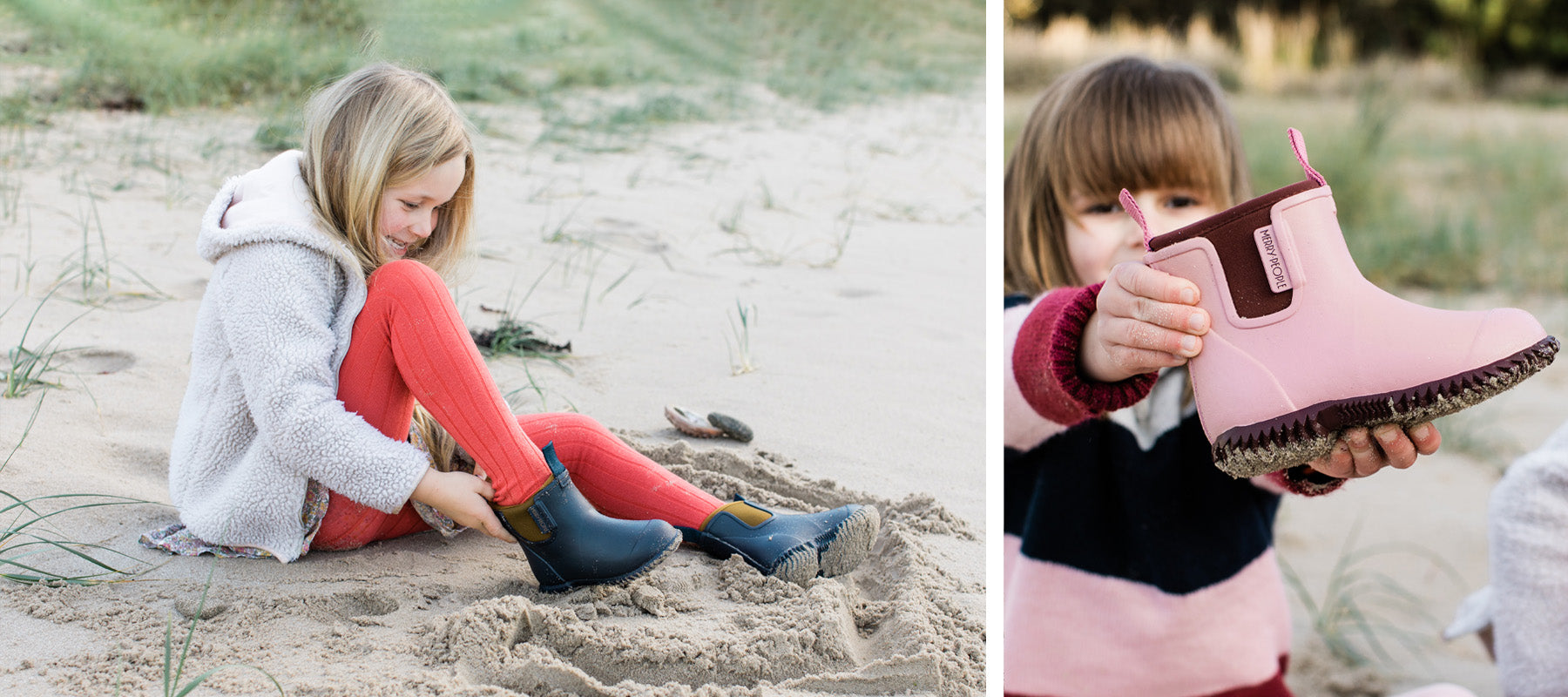 We all know that keeping socks and shoes on your toddler can be a challenge. One minute you've finished dressing them and the next minute they've kicked their socks and shoes straight off. This is not what you want, particularly during the colder months. The key to keeping your toddlers feet dry in the rain or snow is by picking the right wellies and knowing how to put them on their feet. The best wellies from the Merry People kids range are warm, comfy and colourful.
HOW TO HELP A TODDLER PUT ON WELLIES
Ever struggled to put boots on your toddler? The answer is probably yes. To help you out, we've pulled together our tips for getting your kid's wellies on without the struggle.
Make sure you buy the correct size boots for your toddler. 
One thing to keep in mind when buying your child wellies, is that they will most likely be wearing thick socks with the boots. This can make boots that fit in the summer seem too small in winter–so, when shopping for boots, bring a pair of thick socks.
How you position yourself with your toddler is key 
If your toddler has good balance, put on their boots while they're standing. Have them hold your shoulders to maintain their balance, and have them push their feet down into the boot. You can also squat or sit behind your little one and pull their boots on for them.
Help your toddler to put their own boots on
Is your toddler at an age where they like to put their own shoes on? Stand behind them and ask if they need help when they are struggling. Stay relaxed, and they will be calm too.
Consider the style & features of the wellies
The style of your toddler's wellies affects how easy it is to put them on. Buy boots that have a handy pull tab. They should open up easily—this allows them to slip on like a regular shoe. 
Have some plastic bags handy 
For extra rainy days, you can even add a plastic bag over your toddler's foot to make slipping their foot into their boots easier and add an extra layer of waterproofing.

HOW TO DRESS YOUR TODDLER IN WELLIES
Wellies are functional (keeping your toddler's feet dry), but they can also look super cute. Below are our tips for dressing your toddler in their wellies:
Put their wellies on over trousers or leggings

Tuck their trousers inside their long socks, then add the wellies over top

Pair tall wellies with a long rain jacket to keep them as covered as possible

Dress them in ankle wellies for a walk around the park, helping to keep their feet protected from any mud or puddles
Wellies can be worn rain, hail or shine! The key is to choose the right style boot and size for your child. Look for well-made wellies, and you and your family will be stylish and dry for a long time to come.